Entries in City: Taipei
2019-03-02
Treasure Hill n'est qu'à 10 minutes à pied de Gongguan, mais pourrait être un tout autre monde: une ruine, un jardin, un labyrinthe d'escaliers et de petits couloirs de béton. Mais surtout, en plein contraste avec une histoire d'occupations successives et un pédigrée militaire, Treasure Hill ralentit le pas, allonge le temps et libère les sourires.
---
2018-12-25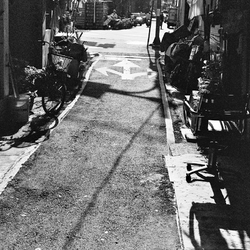 Octobre 2018: Trois jour à quadriller les allées de Taipei, observer la vie depuis ces ruelles sans trottoir, à mi chemin entre espace public et privé.
---
Archives
Essays on the web and tech, rants about media and transportation, and raves about art and the city.
Photos et récits de voyage, poèmes à la ville et au monde, et autres mondanités.
---
📅
… or visit the full archive / explorer toute l'archive.
---
🌐
… or explore all locations / explorer tous les lieux visités.
---
📌